Computer Room Cleaning Service
Value Facility Services, Inc. provides Computer Room and Data Center raised floor and non-raised floor cleaning services. Cleaning and maintaining Computer Room raised floor environments should be taken very seriously. Whether it's a large corporate Data Center, a class 10,000 or a class 100 clean room particle fallout contamination is important for a variety of reasons. Regardless of the industry, particles can degrade the performance of all optical devices, power units, computer hardware, and other micro electromechanical devices (MEMS) and similar components. This can occur in every industry. Particles deposited on surfaces can ruin surface finishes such as paint, epoxy or High Pressure Laminate. The particles can contaminate the cleanliness of HVAC units, computer equipment, computer fans, heat sinks and optical devices. Particle fallout and contamination can easily ruin computer chips during the manufacturing process. Over time particle contamination is capable of creating electrical short circuits between closely spaced conductors. Particle contamination in our modern computer rooms are a particular concern because of the sensitivity of the hardware, and because a proper computer room environment is almost entirely circulating. Any contaminant threat in a controlled environment is compounded by the cyclical nature of the airflow patterns within the room. Cleaning is an essential element of this contamination control.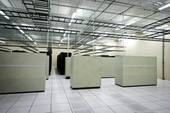 There are many reasons to have your Computer Room cleaned. Most operations centers have heat and smoke detectors installed in the ceiling, in exhaust ducts, and under raised flooring. Computer Rooms that are not properly cleaned and have smoke detectors situated near air conditioning vents or intake ducts that can disburse dirt run the risk of triggering alarms, or maybe even an accidental FM200 or Halon discharge. Value Facility Services, Inc (VFSI), through a systematic approach, cleans and maintains all computer room environments. Our computer room cleaning services include, under floor cleaning, raised access floor cleaning, computer equipment cleaning, sub floor sealing, post construction cleaning, Non-Raised Floor Cleaning, vinyl conductive tile cleaning, ESD tile cleaning, HVAC cleaning, and Indoor Air Quality Testing. These are just a few of the services we provide. We clean and sanitize walls, floors, and ceilings, painted surfaces, ceramic tile, carpets, doors, door frames, ornamental items, light fixtures, chairs, air conditioning systems, and silicon chips. We will use HEPA (0.3 microns with 99.97% efficiency) vacuums and our specially formulated non toxic, non corrosive, nonflammable and biodegradable cleaners under your raised access floor systems. We will clean and recondition the top of all raised access flooring and restore it to a like new condition. VFSI will professionally clean and maintain all computer room equipment inside and outside, including all furniture, media racks, windows, ceiling vents, carts, sills, tape racks, cabinets, glass, desks, disk/tape racks, printers, control units, and shelves. We will clean and sanitize all computer hardware devices and remove all, ink, grime, and toner that may be embedded in the exterior surface. We will clean the interior or all computer devices if needed. We will clean and polish all floors in accordance with the manufacturer's recommendations.
Most construction companies use the wrong sub floor sealant during the construction of a new data center. Most computer room cleaning companies use the wrong sub floor sealant after a computer room has been built. Before you get this service you need to know the facts and the details of the work you are about to have done. All data centers have dynamic environments. Using the wrong sub floor sealant will affect the environment of your computer room. The consequences will affect your data center both long and short term. Maintenance of your clean room, computer room, office environment, or any other controlled environment you may be responsible for is essential. Based on the conditions within your controlled environment we will design a maintenance program for you to keep the room free of contaminants. Strict rules and procedures are followed in order to maintain and clean to the same high standards that which the room was initially constructed to. Compromising your values when it comes to contamination control within your controlled environment will only lead to disappointment. Our maintenance programs are designed to achieve the optimum level of cleanliness, utilizing the most cost effective methods.
Please be assured that we hire, train and motivate only the best people. Our success is due to the fact that we bring solutions to our customers, giving you immediate direct access to the worlds most experienced team of technical experts and to an extensive portfolio of high tech equipment and services.

Post Construction Cleaning Service
Value Facility Services, Inc. complete cleaning and maintenance services present the ideal solution for proper computer room raised floor post construction cleaning for all specialized projects. This intensive cleaning will return the environment to a safe level and assist in the proper operation of all computerized and electronic equipment.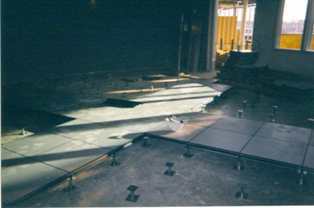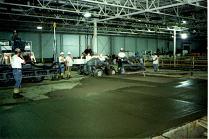 Raised Floor Services
Raised Floor Panel Replacement
We offer rigid grid systems, pedestal systems and bolted panel systems. The floor systems are available with a choice of surface coverings including high-pressure laminate and carpet tile. All floor surfaces have a low static generation and retention characteristics to assure maximum static control. For more information regarding floor surfaces and raised access floor panel replacement please contact our office. We will furnish and install all types of raised floor systems, ramps, railings, and vinyl cable trim cutouts.
We have millions of square feet of used raised floor panels that can be refurbished to a like new condition that will match your existing raised floor panels. Old cut-out panels can now be discarded and you can fill the raised floor grid with a refurbished panel. We have ASM, CEI, CTEC, Donn, Floating Floors, Hayworth, Liskey, Maxcess, TATE AS - Hollow Steel, TATE Concore - Concrete Filled, USG and Woodcore panels. Refurbished / Pre-Owned Access Floor Panels are a cost effective alternative to New Access Floor Panels.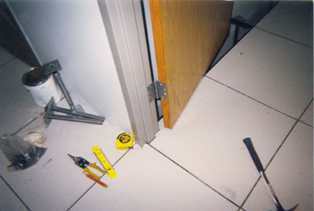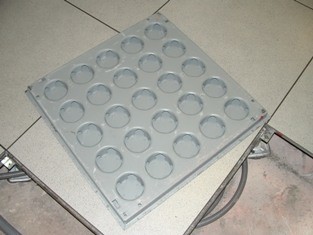 HPL AND PANEL THICKNESS: A majority of the raised floor panels have a HPL (High Pressure Laminate) surface. Measuring the HPL and Panel thickness is best accomplished with a cut access panel. In most cases HPL will be 1/16" or 1/8" thick.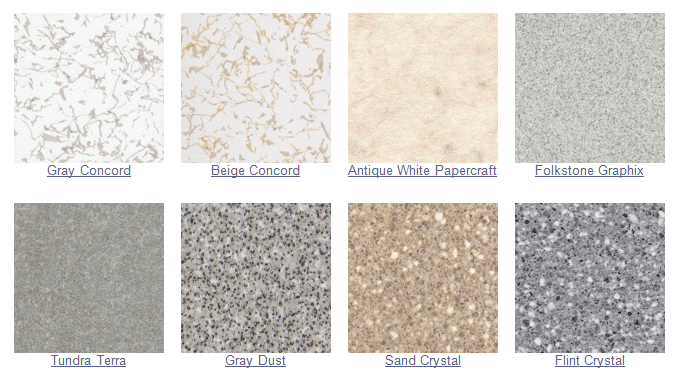 Indoor Air Quality Testing

Value Facility Services, Inc provides Indoor Air Quality Testing and verifies that your Computer Room Air Conditioning System is free of contaminants that may be harmful to your Computer Room environment.
Value Facility Services, Inc provides Indoor Air Quality Testing and verifies that your Computer Room Air Conditioning System is free of contaminants that may be harmful to your Computer Room environment.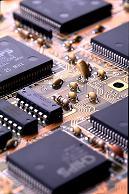 Zinc Whisker Testing, Cleaning and Consulting
Value Facility Services, Inc offers a variety of Zinc Whisker testing and inspection services. We also offer Zinc Whisker consulting services, cleaning and containment services. The remediation of Zinc Whiskers and other Computer Room contamination can be made cost effective and accomplished economically.