REQUEST A QUOTE
PO Box 304
Corolla, NC 27927
Phone: 703-989-7857

Business Hours:
8:00 AM to 5:00 PM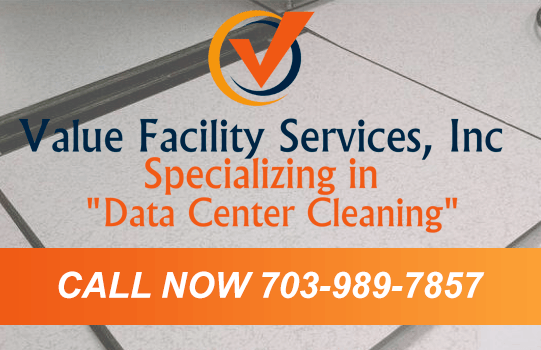 REQUEST A QUOTE
PO Box 304
Corolla, NC 27927
Phone: 703-989-7857

Business Hours:
8:00 AM to 5:00 PM
Welcome to Value Facility Services, Inc
WE WORK HARD TO PROVIDE YOU THE BEST COMPUTER ROOM CLEANING SERVICES.
We can Provide your Business with Covid-19/Coronavirus qPCR Environmental Surface Sample Testing for Covid-19. We also offer Cleaning Efficacy Surface Testing for Covid-19. We can provide your Business a Contingency Plan Based on Results.
Before you consider any contractor in your Computer Room, you should ask to see their Run/Loss Insurance report The Run/Loss Insurance report is provided by their insurance carrier.  That report will determine how well trained they are because you will be able to see all the claims that ever occurred against that contractor.  Its a very valuable report.  We will furnish our report upon your request.  We guarantee you will always be satisfied  with the service we provide.  Safety is always first.  Our services range from computer room raised floor cleaning services to sub floor cleaning services and computer hardware cleaning. We will service any computer room at any location. In addition, we offer green cleaning services to all our clients that are earth-minded. Our company has been supplying skilled industrial data center cleaning services to commercial production companies across the 48 contiguous states for over 20 years. Our experience, coupled with initial and ongoing formal training for our cleaning and sanitation crew, has given us the tools to make efficient use of the best processes, cleaning products, and supplies to get the job done quickly and effectively, so your company can get back to business as usual.
If you are building a new Data Center our services start with the removal of Computer Room cable debris and installation construction dust during the Post Construction Cleaning phase all the way through to an on-going scheduled maintenance program for your Computer Room facility. Consistent and precise cleaning is essential to maintaining an optimum environment for all existing Computer Rooms and Data Center environments. Value Facility Services, Inc will provide and customize a maintenance program that will fit your maintenance needs. We offer services that are critical in the care and protection of all controlled computer environments. Value Facility Services, Inc also offers National Sales, Service, and Maintenance Agreements. We offer many services and products for your data center.
No we don't build Data Centers but Value Facility Services, Inc. complete computer room care helps keep more data centers running newer and longer than anybody in the business. The inside of the computer is the most important part of the computer that needs to be cleaned. If you want to prevent overheating this is a good place for Value Facility Services, Inc to start cleaning your computer room. Especially if there has been construction in your data center. "Just Keep it Clean" and get the service.
It does not matter if you are in New York or California, we guarantee you will always be satisfied with the results.